Langley Const. completes 12,800 s/f VECM at 2743 Brown Ave.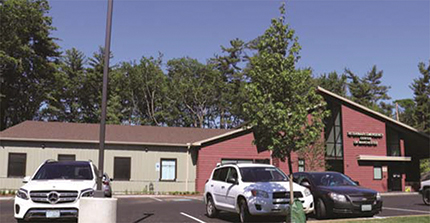 Manchester, NH Langley Construction has completed the new home of Veterinary Emergency Center of Manchester (VECM) at 2743 Brown Ave.
The new facility provides 24/7 emergency care and now features veterinary care in a new 12,800 s/f facility. Features include full digital radiology, in-house laboratory, urgent and emergency surgery and monitoring equipment.
Langley Construction was awarded the project which demanded comprehensive site work and included exporting 20,000 yards of material to reduce the elevation of the site by 12 feet to accommodate the 17,000 s/f  project. Due to the close proximity to a cemetery, the project involved a pile and lag wall that added to the time and complexity of the project.
The architect was Rauhaus Freedenfeld & Associates, and is an award-winning leader in veterinary architecture and animal care design.
"Fortunately, we chose Langley Construction for this project. Steve and Denise Langley managed  to deliver a huge project on a very short timeline, even in the midst of a pandemic," said VECM owner Dr. Sara Pascoe, "Their entire team was wonderful to work with, and they brought creative solutions that we would not have thought of. Should we ever have another construction project, Langley Construction will get the nod to do it.